……did I open that e-mail from "Anthropologie"?!
I love getting their e-mail catalog…..it's one of those things that makes me say to myself….."I think I could make something like that"!
I know this blog is "mainly" supposed to be about rug hooking, but it's really turned out to be just more of a peep into what makes me tick.
Go to the picture of this
"
Pigment Stitched Sweater Coat
"

and keep "zooming" in on it until you can see how the embellishing is done…..yeah, I think I have a red sweater coat that I could do this on!
Or this "
Wildflower Cardigan
"…..I don't know how to crochet very well, but how cute is that? Almost makes me want to apply myself and learn how to do those crocheted flowers like
Toni
has been making! You could put this on a sweater, a felted bag….the possibilities are endless and just make my head spin!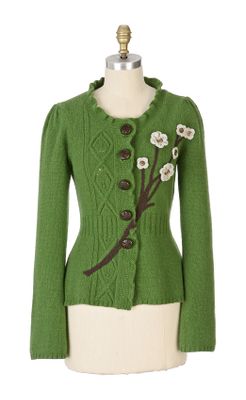 My other favorite that has umpteen possibilities for re-creation is this
"Hickory and Oak Cardigan"
.

Felting, stitching, embroidery….WOW!

And this one is DARLING!!!! The "Good Bird Hat"….it's simply a bird stitched onto a hat…okay, I admit…that would be a stretch for me to be able to do something like that, but you could stitch flowers or something like that onto a straw hat or tote that you already had to give it an update!
Go forth and be creative,
Tammy